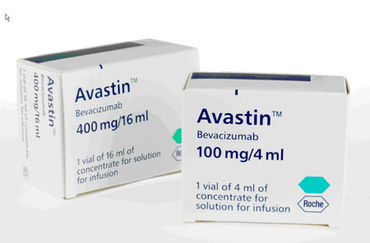 ROCHE
Bevacizumab-avastin
---
"Bevacizumab" is the Drug / Molecule content in "Avastin". This drug is an angiogenesis inhibitor that slows the growth of new blood vessels. Avastin is a therapeutic antibody that specifically binds to Vascular Endothelial Growth Factor (VEGF), a potent source of angiogenesis. This may block the tumor's ability to communicate with nearby blood vessels and may prevent the tumor from connecting to the blood supply.
---
Indication
Avastin is used to treat a certain type of brain tumor, and cancers of the kidney, lung, colon, rectum, cervix, ovary, or fallopian tube. It is also used to treat cancer of the membrane lining the internal organs in your abdomen. It is usually given as part of a combination of cancer medicines.
Note
Precaution
Avastin is a prescription drug and should be used under proper medical guidance and advice.

The incidence of wound healing and surgical complications, including serious and fatal complications, is increased in Avastin-treated patients.
Updated On Oct 23, 2019 by Admin
Strength
100 mg & 400 mg
Packing
Vial
Storage
Store at room Temperature (25 C).
---