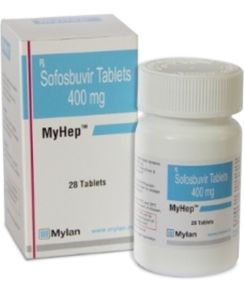 Mylan
Myhep
---
"Myhep" contains the Drug / Molecule called "Sofosbuvir". Myhep belongs to a class of medications called antiviral agent. Myhep is a nucleotide prodrug. The active form of Myhep competes with natural nucleotide chain and interferes with multiplication of the ribonucleic acid (RNA) of hepatitis C virus (HCV) leading to reduced numbers of HCV in the body.
---
Indication
Myhep is used in treatment of chronic hepatitis C. Myhep is also used in HIV, or people who have liver cancer and are going to have a liver transplant. Myhep is only recommended with some combination of Ribavirin, Peginerferon-alfa, Simeprevir, Ledipasvir, Daclatasvir, or Velpatasvir.
Note
SIDE EFFECTS :
Common side effects include feeling tired, Headache, Nausea and Trouble Sleeping.

Myhep

may reactivate hepatitis B in those who have been previously infected.
INTERACTIONS :
Sofosbuvir (in combination with Simeprevir, Ledipasvir, Daclatasvir) should not be used with Amiodarone due to the risk of Abnormally slow heartbeats.

Co-administration of Sofosbuvir with anticonvulsants (Carbamazepine, Phenytoin, Phenobarbital, Oxcarbazepine), antimycobacterials (Rifampin, Rifabutin, Rifapentine), and the HIV protease inhibitor Tipranavir and Ritonavir is expected to decrease Sofosbuvir concentration. Thus, co-administration is not recommended.

Do not start, stop, or change the dosage of any medicines without your doctor's approval.
OVERDOSE :
Do not use more than prescribed dose.

If you suspect you may have overdosed, call your healthcare provider.

Do not take extra dose to make up for the missed dose.
Precaution
Myhep

is a prescription drug and should be used under proper medical guidance and advice.

Extreme caution must be taken to avoid pregnancy.
Updated On Oct 17, 2019 by Admin
Strength
400 mg
Packing
1 X 28 Tablets (Plastic Container)
Storage
Store at room temperature 25°C.
---