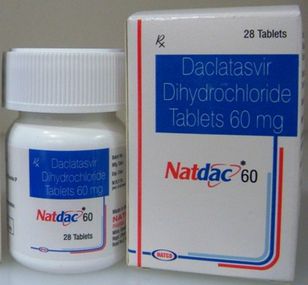 NATCO PHARMA LIMITED (INDIA)
Daclatasvir-natdac
---
"Daclatasvir" is the Drug / Molecule content in "Natdac". Daclatasvir is used for the treatment of patients with chronic Hepatitis C virus (HCV). Daclatasvir inhibits the Hepatitis C Virus (HCV) nonstructural protein; by targeting two steps of the viral replication process, enabling rapid decline of HCV RNA.
---
Indication
Daclatasvir is used for treatment of patients with chronic Hepatitis C .
Note
SIDE EFFECTS :
Serious risk of bradycardia when Daclatasvir is used with Sofosbuvir and Amiodarone.

Common side effects include:

Headache, Hemolytic Anemia, Nausea, Fatigue, Diarrhea.
INTERACTIONS :
Some common drugs that are strong CYP3A inducers include Dexamethasone, Phenytoin, Carbamazepine, Rifampin,

When taking Daclatasvir with Non-nucleoside reverse transcriptase inhibitors, the dose of Daclatasvir is increased to overcome CYP3A induction.

The dose for Daclatasvir should be lowered when taking with antifungals, such as Ketoconazole.

Concurrent use with Amiodarone, Sofosbuvir and Daclatasvir has may result in an increased risk for serious slowing of the heart rate.
OVERDOSE :
Do not use more than prescribed dose.

If you suspect you may have overdosed, call your healthcare provider.

Do not take extra dose to make up for the missed dose.
Precaution
Cases of severe bradycardia and heart block have been observed when used in combination with sofosbuvir with or without other drugs that lower heart rate.

Daclatasvir

should not be used during pregnancy or in women of childbearing potential not using contraception.
Updated On Oct 17, 2019 by Admin
Strength
30 mg & 60 mg
Packing
1 X 28 Tablets (Plastic Container)
Storage
Store at room Temperature , protected from sunlight.
---